Creativity in Crisis
It is, across the board, a pretty tough time to be a human right now. We Your Dames have, in the grand scheme of things, comparatively little to complain about. But finding the will to create when what we make is designed to be at least a little frivolous has been extremely difficult.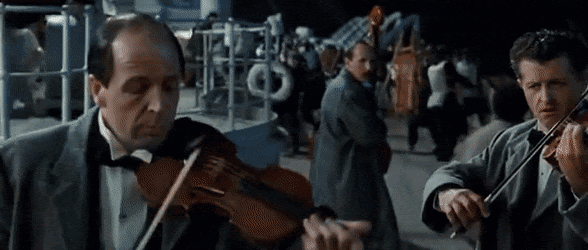 A group with which we have strongly identified of late
The metaphor we've kept coming back to is this one: say you are the string quartet on the Titanic, and it's sinking. What do you do? Do you set aside the frivolity in which you're expert and attempt substantive work at which you are not? Or do you gather your courage and play "Nearer My God to Thee," giving your best— but perhaps not most applicable— service? Suffice to say, the two of us have been having a hard time sorting that out. 
Every Sunday morning, the two of us have an editorial meeting where we check in about what we want to write in the coming weeks, administrative tasks we need to complete, guest editors we want to book, and the like. Lately, however, they've been both three times as long as usual and about ⅙ actually editorial business. The remaining five sixths have been the two of us just… talking. About how hard our weeks have been. About how scared we are and what, specifically, is scaring us this week. 
Who we're scared for. What, if anything, we can do about it besides acknowledging our fears and trying to find the next right thing to do with our resources.
---
RESOURCE ALLOCATION BREAK!
Just last night, the murders of two more trans women of color came to light: Riah Milton and Rem'mie Fells, both killed on June 9th. Say their names. And— if you have the money to spare— consider donating to some of these organizations that support trans BIPOC.
---
One subject that came up lately is our struggle to feel like our skills, such as they are, matter in these battles. We are not natural revolutionaries— our strength lies more in refining and revising than it does in burning shit to the ground, as much as we feel like that's the only answer lately. 
Here's what we've figured out so far: not everyone is useful on the front lines of a given struggle. Sophie, for example, is chronically ill and both of us are built for rhetorical battles, not physical ones. Sophie is re not going to put seasoned protestors in danger or just make more work for them by taking up space and then predictably getting sick when she can be of actual help by putting my skills to use where they'll do some good. Our inventory of concrete contributions we can make is more along the lines of writing, revising, information-finding-and-sharing, note-taking, idea-clarifying, list-making, signal-boosting, errand-running, money-giving, supply-ordering, cooking, and baking. WHICH— correctly applied— are not minor contributions. 
We also want to make a case for creativity and even straight-up silliness & frivolity in these times. Everything is on fire. New, genuinely and very justifiably horrifying things are happening every day. This only enhances everyone's need to refill our cups and keep a close eye on them, lest they empty all the way. This is going to look different for everyone, and there are absolutely days where seeking out a laugh-fest isn't appropriate. Figuring out the balance, both in what to seek and what to make, is the trick.
This is why it's important to identify the things that restore you in different ways, and keep a long list of them so you can access the one that's closest to what you need on any given day. We are so grateful to the people who are out there continuing to make, do, and share joyful things with the world. Yes, this entire newsletter is dedicated to sharing joyful things with the world, but we're not talking about us. We're over here having a dark teatime of the soul and trying to give ourselves and our readers a pep talk worthy of Original Pep Talk King Josh Gondelman or Pep Talk Rookie of the Year/New King On The Block The Kid Mero, not accrue points for ourselves. 
Here's a brief list of some things keeping us going. We'd love to know what's helping you.
Margaret also wanted to shout out a few people who usually make light content but are taking the current circumstances as a reason to deepen their work.
Two Bossy Dames is brought to you by:
We appreciate you, readers of Dames Nation!
Every time you tell a friend to subscribe, some woman, somewhere, find a reason to fiddle on.
Help us build Dames Nation by upgrading to a paid subscription on Substack
Share your saucy opinions with us on Twitter whether jointly as your @twobossydames, or in single size servings as @MrsFridayNext & @sophiebiblio!
And! You can catch Bossy Extras on Tumblr.