You know who never lets us down, Dame Nation? Carly Rae Jepsen, that's who.
Not content with producing one absolutely immortal breakup bop, one week before Valentine's Day, she has provided us with a second:
The spoken word interlude is, obviously, sending us. What a welcome Friday surprise!
---
Livetweet Reminder: To All The Boys I Loved Before: P.S. I Still Love You, February 16th!
We fell head over heels for Lara Jean Covey and Peter Kavinsky when they first graced our screens in 2018, and, thanks to Dame Margaret attending an advance screening this past week, we can assure you with absolute confidence that its sequel is, somehow, impossibly, every bit as effervescent, emotionally nuanced, and captivating as the original was. We are so excited to watch this one with you!
Who: YOU, darling Dames Nationals! Bring a friend!
When: Sunday, February 16 at 7:30 PM ET
Where: Watch on Netflix and howl delightedly with us on Twitter or our handy thread, to be sent out the day of the grand event! We'll circulate the hashtag as we get closer to the film's release, too.
---
Oscar Fashion Ruminations and Prognostications with Samantha Powell
This really was a heck of a dress.
As Dame Sophie is out this week, hard at work on recaps for Hulu's upcoming adaptation of High Fidelity, We Your Dames decided to bring in a pinch hitter: perennial #damesfav and former guest editor Samantha Powell, whose red carpet fashion commentary is a reliable delight of awards season no matter how lackluster the Academy's choice of nominees might be. We hope you are as delighted by her analysis as we are!
---
Let's go back to the beginning, well back to the beginning of this century at least, with the 2001 Oscars ceremony. Julia Roberts won her first, and only as of this writing, Academy Award on the back of her third nomination. The late March ceremony took place a full year after Julia's turn in and as Erin Brockovich hit the screen, a seismic shift from how things are done now. There are the occasional outliers, Get Out and Black Panther's many nominations following February releases and Once Upon a Time… in Hollywood maintaining momentum after premiering during a time of year now mostly ceded to superheroes and franchise sequels. But October to December is the awards release window now and I, in turn, spend many, many hours during those months in dark rooms drinking Cherry Coke.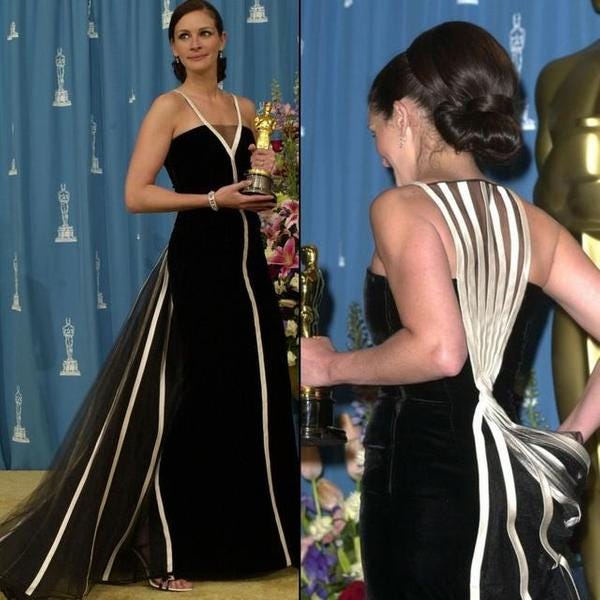 I wasn't thinking about release windows as I sat in my Boston living room nineteen years ago. Instead I was asking myself a question. "1992?" For that was the year from which Julia's Valentino haute couture gown originated. It felt like eons ago but then for me it was. At nearly 18, nine years was half of my young lifetime. I could not imagine wanting to return the fashions of that era because to go back to 1992 was to return to childhood. However, mixed with my juvenile confusion about the choice of era was an almost immediate love. I didn't know it then but here was a dress that perfectly encapsulated the fashion preferences that would cement themselves throughout my late 20s and 30s. Neutrals and clean lines and a lack of frills.
Why did I start here? Nostalgia really as that dress continues to be one of my Oscar favorites. A better starting point for this discussion appeared five years later. In 2006, Reese Witherspoon wore a 1955 Christian Dior confection as she picked up the last of the many awards she won for portraying June Carter Cash in Walk the Line.
It's the last vintage dress that I remember a Best Actress winner wearing to the Oscars. In the back half of that decade, we began to enter what I like to call The Age of the Stylist. Obviously celebrities worked with stylists long before the late 2000s, but their impact has grown in the years since Reese chose that 50-year-old Dior. In the past few years, that growth has only accelerated as some stylists have become brands in their own rights. Micaela Erlanger, most notably stylist to Lupita Nyong'o, has written a book and started a bridal consulting company. Karla Welch, stylist to the two actresses preparing to join the Bond universe, has a styling app. Jason Bolden, stylist to Yara Shahidi, co-stars in a Netflix reality series with his husband, interior designer Adair Curtis.
And the list goes on.
The awards shows and all of the other events that live alongside the film and television industry— photo calls and late night talk show appearances and film festivals— are now also economic propositions for the fashion industry and, therefore, crafted to sell us on not only the upcoming project but also the ongoing endorsement deal of the actress in question or the image she is trying to build or maintain. And so newness is the name of the game. Looks leap straight from the runway to celebrities ages before the average person might see them in a store. Viola Davis sits front row next to Anna Wintour at the Vera Wang show and twelve days later wears a brilliant green, custom Wang gown to the Oscars. I flip through a spread in a fashion magazine and think "that's old news" about a dress I saw at a Cannes photo call months ago.
In my opinion, this obsession with the new is partly why the BAFTAs recent call for sustainable or vintage looks failed. The sustainable piece was the easier sell although exactly what sustainability means in the fashion industry is still being hashed out. (The short answer is that no one yet has any real idea what they're doing.) But I knew the call for vintage was going to be ignored. The Christian Dior of five years ago looks nothing like the Christian Dior of today, and if you're paying an actress millions of dollars to sell the current vision of the brand, there's only one direction in which to go.
That's where we've been, and where we are. As for predictions for Sunday night? The simple answer is that I have no fucking clue. And here we can go back to the date of Julia's triumph, March 25th, 2001. This year everyone will take home their prizes on February 9th, a full six weeks earlier than the 2001 date, three weeks earlier than last year's ceremony, and an awkward moment in the calendar of the types of fashion brands that generally dominate this red carpet. The Spring/Summer 2020 haute couture season ended in Paris on January 29th, sixteen days after the Oscar nominations were announced. Fashion Month for the Fall/Winter 2020 season kicked off in New York only yesterday. And with the red carpet's propensity for looking forward, those two fashion events are usually the easiest ways to predict what we might see on Oscar night. Was there enough time for those couture looks to make their way to the Oscars? Probably. Will we see shades of Sunday night's gowns on the runways of New York, London, Milan, and Paris in the days and weeks after the ceremony? Almost definitely. But the timeline has left me less sure than I usually am.
However, this doesn't mean that I have no thoughts on the matter.
Green
If there is a color that dominates the night, it might be this one, which I spotted frequently in the Spring/Summer 2020 collections last fall. I have my fingers crossed for this Zuhair Murad dress.
Gold
There is always one metallic that rises above the others on Oscar night and this one has the advantage of having been featured in many of the haute couture collections that showed in Paris last month. Dior was VERY into it. Personally I don't love a gold dress at the Oscars, even when it's as lovely as the one that Sandra Bullock wore when she won for The Blind Side in 2010, because it looks a bit like you're trying to dress up like the statuette. But no one cares about my opinion so I'm sure we'll see a lot of it.
Will no one learn from 2019 Glenn Close????????
The Usual Suspects
Charlize Theron will be in Dior and so will a lot of other people. Margot Robbie will be in Chanel, but the brand is still finding its footing after the death of Karl Lagerfeld so it won't be on many others. Gucci, Oscar de la Renta, and Christian Siriano will have good nights. Valentino will have an amazing night. People will continue to forget that Dolce & Gabbana never actually apologized for their most recent bout of racism. One to three people will wear Marchesa despite the black clouds that still follow the brand around. Saoirse Ronan will wear something unexpected that delights me. There will be almost no black designers to be seen.
Bows
I'm only putting this in here because of a special Valentino haute couture collection that turned up on Jennifer Lopez at this year's Golden Globes and because oversized bows are an easy way to project drama. Although there were also some good bows in the Pre-Fall 2020 collections of Oscar de la Renta and Carolina Herrera.
Mystic Pizza Era Julia Roberts might approve.
Sleeves
Dramatic sleeves were the go-to at the Golden Globes last month so they probably won't be as dominant on Sunday. Still someone should wear this Reem Acra for me.
Safety
This isn't a trend so much as it is The Way We Live Now. Most risk has slid away and been replaced with an almost generic prettiness. Why? Well there is, of course, the worry that history might look back at images from your big night and ask "what the fuck was she thinking?" It's a legitimate concern that even Cate Blanchett has fallen victim to it. She wore a perfectly lovely Armani when she won for Blue Jasmine in 2014, but as anyone who follows her fashion choices knows she is capable of truly thrilling looks. But thrilling can miss the mark, although Cate rarely misses the mark, and there are other factors besides one's legacy to consider. There are those brands again, worried about their images and their sales and that contract that you signed. I'll let a 2015 profile of Cate take it away here. (Emphasis is my own)
In 2007, she moved back to Sydney from Britain and took over the Sydney Theater Company with her husband, the writer and director Andrew Upton.

There, her status as a fashion icon came in handy as Giorgio Armani provided millions of dollars in donations, and became its lead patron.

In an email, Mr. Armani called Ms. Blanchett "one of the most talented actresses of our time," a person whose appeal is being simultaneously "fragile and strong, icy and sensual."

The marriage between the Sydney Theater Company and Mr. Armani also turned out to be a harbinger of a new economic reality in the entertainment business. As movie salaries shrunk and executives turned up their noses at making big, ambitious movies about women, the fashion industry was becoming increasingly dependent on Hollywood celebrities to sell magazines, clothes, jewelry and makeup. And so a small coterie of big-ticket actresses began to earn some of the difference back by taking on edgier, more experimental film and theater work while forging relationships with luxury brands, which compensated their muses in myriad ways for the affiliation.
This more than anything, more than an obsession with the new or The Age of the Stylist or worries about legacy, is what I believe holds the most sway over the red carpet.
As so many things do, it all comes back to late capitalism.
---
And a few bonus links from Dame Margaret
---
Two Bossy Dames is brought to you by:
We appreciate you, readers of Dames Nation!
Every time you tell a friend to subscribe, some woman, somewhere, secures BTS tickets for their very favorite teenager.
Help us build Dames Nation by upgrading to a paid subscription on Substack
Share your saucy opinions with us on Twitter whether jointly as your @twobossydames, or in single size servings as @MrsFridayNext & @sophiebiblio!
And! You can catch Bossy Extras on Tumblr.