Discover more from twobossydames
In which Margaret & Sophie & Karen boss the Internet with impeccable discernment & insouciant charm. Cultural recommendations & commentary every Friday evening.
Over 6,000 subscribers
It's All Right To Cry
An Entire 2020 Mood
We've got a special one for you this week, Dames Nation. We're in our feelings & are taking you along for the ride!
Your Dames, literally every day
Dame Margaret: So, as regular readers of this newsletter likely know, the last 6 months have been a real emotional roller coaster for me. I have spent a not insignificant amount of time crying and have had a great deal less ability to control that than I am accustomed to. Which naturally got me thinking about crying, which got me talking to Sophie about crying, which led to us realizing it's one of the many subjects about which we have a great number of thoughts.  
Dame Sophie: We do, indeed! Going back years! Thoughts, habits, inclinations, wishes. I've written many (maybe too many? NAH!) times here about the role of crying in my life. It's always been the emotional system relief valve for me. I cry when I'm sad or moved, and I cry when I'm anxious, or angry. If I were to graph the output of my tear ducts over the years, I think I'd see that anger makes me cry more than anything, and thanks to some searching conversations with my therapist, I think part of it is just some built-in wiring and some of it is linked to feeling out of control, particularly in a situation where there is a problem or crisis, and I would like to help change the outcome, and I can't. 
M: Okay, that brings up two threads I want to pursue: first, I would love to know more about your History of Tears. Like, you've always been a crier? Even when you were small? And second, I know we both want to talk about the Neglected Multivalence of Female Tears-- you know, they are usually understood as a mark of delicacy and helplessness and often are nothing of the kind.
S: Oh, yeah, a big crier from the start. Which may surprise people who don't know me super-well, or who only see me in certain contexts where I feel like emotional regulation is an obligation. I can and do manage not to cry plenty, and also that is hard work for me!
M: It is frustrating-- deeply frustrating-- that it's hard for someone to imagine A Crier being as practical, competent, and effective as everyone who's worked with you would know you to be.
S: Thank you! I think part of why I have been so keen to talk this through with you is because you know me in a lot of different contexts and know that crying is just a core color in my emotional palette. So many things make me cry; I'm a very tender person and those emotions are almost always very accessible to me and sometimes insist on asserting themselves even when I'd rather that they did not. What's your history with crying?
M: What's interesting to me about my History of Tears is that I was not always a big crier, which is something that would stagger most people who know me as an adult. As a kid, I was highly prized among my peers for being very tough and unflappable. Never crying when I hurt myself, never crying when someone was mean, always being able to take a joke, etc. Honestly, the vast majority of tears I cried before age 15 were tears of embarrassment over publicly crying. It was, ironically, the one thing so upsetting that I couldn't get the reins back once it happened. And then, at 16, my dad died very suddenly, and my ability to suppress tears vanished with equal abruptness.  I was just as horrifically uncomfortable doing it, but crying…wasn't optional anymore. A trial not by fire, but by salt water, if you will. So I have some of the zeal of a late in life convert about crying being GOOD, actually. I think of how closed off I was when I was younger and the kind of dynamics my toughness created and contrast it to now, and the joys that greater emotional openness has brought me, and the latter is definitely MUCH better.
S: Your description of it being not optional anymore is really ringing a bell for me. And of course, salt water is very healing. To Karen Blixen's list of sweat, tears, and the ocean, I'd add chicken broth. They're all in the same family. 
M: Some of the most vivid memories I have from the year I lost my dad are times I sobbed in public and couldn't stop-- at least, not as quickly as it would have been socially convenient for me to. Like the first time I saw The Royal Tenenbaums in the theater, the ending (which is not particularly devastating in the scheme of things) just destroyed me. Because (spoiler warning for this…nineteen year-old movie) Royal dies of a heart attack, but his son Chaz is with him. And my dad died of a heart attack without having any of us there, without any of us being able to say goodbye. And my poor best friend, who is I think still mildly traumatized by this today, was absolutely stricken with guilt for recommending the movie and not realizing how the ending might impact me. But I think back on that now as honestly…freeing. It was one of my biggest fears and it didn't kill me. People still love me even when I'm not tough. People still love me even when I'm inconvenient. It's a lesson I am still learning every day, but my years of involuntary crying got me a LOT further on that path than anything else could have.
S: That makes so much sense to me. As we discussed in our now-vintage Lady Rage issue five whole Earth years ago, women are expected not to be inconvenient. When others are losing their shit, we are expected to smooth things over, to comfort, console, cajole, and maybe a whole bunch of other words that start with c (offering cookies comes to mind), so that others have the space to feel or be inconvenient. I had no articulable awareness of that as a child, but I do as an adult and I've come to the conclusion that everyone, of every gender and race and place in life, needs to have access to the full range of their emotions so they can learn for themselves how to regulate them in healthy, adaptive ways. I think so much of the pain humans feel -- in our bodies and in our souls -- is caused by contorting ourselves into shapes we don't belong in. 
M: Which! I think brings me to the second part of your opening statement I wanted to address-- the Neglected Multivalence of Tears. You mentioned that you cry from anger more than almost anything else and that's a major trigger of tears for me, too. And a very frustrating one because generally, if I am fiercely advocating for a given point, the last thing I want to do is cry, which will be used to undermine that point. So I need to give big speeches like "I am not crying because I am sad, we do not have to stop the conversation. This is just how my body processes certain kinds of stress."
S: That's a really useful way to frame it for others, even people who know you well. Over time I've developed some very similar stock language that I use when I get in a Likely To Cry situation to make sure people understand that I might be crying but not actually in need of comforting, this is not a derailing tactic, and I do not want them to feel bad as a result of my crying. Unless someone is being cruel, it's truly not them, it's me. I usually can cry for a while and then feel that the worst of whatever was making me cry is discharged and I can move on and do what needs to be done, whether it's move on to the next agenda item in a meeting (yes, I cry at work occasionally), or whatever. 
M: If there is anything I could change about my crying, it would not be its frequency, but it would be the power other people ascribe to it. I hate that it's perceived as a reason to stop conversations, or avoid art, or table a conflict. I particularly hate that, as a Nice White Lady, it can function as a Get Out of Criticism Free card. 
S: Yeah, there is so much to detangle when we take crying out of the realm of our individual experiences, and consider it alongside gender and race. When men express their anger -- which so often is loud & physical -- it functions as a call to everyone around them (especially women) to fall in line physically & verbally. They need space! They need care! Be quiet & tend to them! For god's sake, don't make them angrier, we don't know what they'll do as a result! A similar process takes place when white women cry, forcing women of color -- especially Black women -- to shrink themselves in turn so that white women's emotions can take precedence. Those dynamics may seem to have their own inevitable momentum and drive, but they are actually driven by human agency and choices, which have real consequences, and we have to describe them so that we can dismantle them. 
M: All of which is why we thought this conversation would be enriched by the addition of a third voice: welcome Kamille Washington, beloved friend and Crier Extraordinaire. What has your ~*journey of tears*~ been like? 
Darling Kamille: Well, as a Not-Exactly-Nice-But-Not-MEAN Blasian Lady, I have to say that a lot of what you've both said here really resonates with me. Like you, Margaret, I became a frequent crier in the last decade or so. I was raised never to show vulnerability in public. It was fine to come home to scream and wail, but I would never have allowed anyone outside my immediate family to see me sweat. 
My parents were just trying to prepare me for the life of hardship that they expected for a young woman of color. Plus, I started the ninth grade at the tender age of twelve! You can imagine the sort of cruelty I dealt with on a daily basis. Rarely did I ever permit myself the luxury of crying, even in private. But in my early twenties, after years of carefully suppressing every negative emotion, something had to give. I needed an outlet. We all know that astrology is fake, but it feels important to note here that I am a Scorpio sun with a Sagittarius moon. I FEEL THINGS, deeply and urgently.
These days I cry a few times a week. Often, I cry happy tears: pictures of our friends playing with their children regularly reduce me to a blubbering mess. There is a photo that I treasure, of me weeping as I cradle our friends' beautiful baby boy. In my better moments, I see the strength of my emotions as an asset. It makes me who I am. But when I'm struggling to communicate my frustrations to my partner in the midst of a particularly violent crying jag, my emotional range doesn't feel all that empowering. I, too, worry about the power of tears to end or derail productive conversation.
And of course, there is a history of some tears being privileged over other tears. The tears of white women in this country have held a particular and terrible power. How many innocent black men were beaten, lynched, or deprived of their freedom because of a white woman's tearful accusations? And how many times has a discussion of racial justice been derailed because a white woman centers her own emotions instead of the emotions of people of color? White women's tears are FRAUGHT. 
But I don't think this should keep Nice White Ladies from expressing their full range of emotion in day-to-day life. That approach doesn't serve anyone. But I do think that white people should be curious about their emotions when it comes to topics like race and inequality. It's good practice for all of us to investigate our emotions. And for white people struggling with feelings around race, it's best to investigate those feelings in the company of other white folks, or friends of color that have explicitly agreed to think through those issues with you. If you're interested, there are tons of great books on the subject. Robin DiAngelo's book White Fragility provides useful diagnostic tools for white liberals grappling with racial discomfort. Ijeoma Oluo's So You Want To Talk About Race is just as bracing at White Fragility, but is more solutions-oriented. And if you REALLY want to get your book club popping, Ibram X. Kendi's How To Be An Anti-Racist challenges white and black folks alike to change their thinking about race in America. 
M: AND that solid stretch of nuance, brilliance, and insight is exactly why we wanted you to join this conversation. One of the questions that really interested me, as we were talking this through before jumping into writing, is how crying works with your partners--- particularly you, Kamille, as you've had very serious relationships with both men and women. Do you feel like there's been a difference in how they react to TEARS?
K: Oh, absolutely. My boyfriends have been uniformly flummoxed by my crying, no matter the emotion behind it (although I will say that angry crying seemed to be especially bewildering). But my current partner, Paige, is refreshingly resilient in the face of my tears. Even though she's not a crier herself, she understands that tears don't mean the end of the conversation. In fact, if I'm crying, it's extra important for us to keep at it! There's never any normative value assigned to me crying or her not crying. I'm so grateful for this, because that hasn't always been the case in my past relationships. Paige is willing and able to explore my feelings with me, rather than being intimidated or antagonized by them.
M: That makes me so jealous. In my romantic and sometimes family relationships with cis het men, my crying has worked in the most maddening way-- especially, as you note, if it happens in a fight, they will respond with resentful defeat. They act like I just deployed a cheat code-- suddenly I am too powerful to contradict anymore, but also too hysterical to listen to any further.
S: Ah, yes, hysteria. That label is an actual cheat code, giving the deployer an automatic door out of the conversation and off the hook. As if crying is indicative of an inability to process emotions or information logically. Tears are a perfectly logical response to negative stimulus, such as a serious argument with a loved one! To suggest otherwise is to be swallowing & then regurgitating whole some very sexist, nasty-smelling garbage that's harmful to everyone. 
M: As a person who's both prone to crying and attached to an identity as a persuasive, well-reasoned, logical arguer, this has always been the worst. I want to win this fight because you can see that I am right thanks to the force of my watertight observations. I don't want to win because "Well now you're crying, so I can't respond to anything anymore." 
K: It's maddening! There are few things more infantilizing than having your own emotional state explained (dare I say, mansplained??) to you. But in my better moments, with people I love and respect, I try to be generous when I encounter this sort of reaction. I mean, it's never nice to feel like you're being dismissed, but it's also true that I'm rarely at my most articulate when the tears really get going. 
M: And it's not always their fault. Like, learning to power through my tears has sometimes been a struggle for my older brother now that we're both adults. But it's hard for him because, for the first twenty years of our life as siblings, as the older kid, he was always expected to be very careful with me and practice serious emotional regulation. When he was 10 and I was 5, making me cry it really did mean it was time to stop the argument, and it could mean he'd gone further than he should. But when he was 25 and I was 20, that stopped being the case. And adjusting to that, trusting that I really meant it when I said that crying should not be the end of the conversation-- it took time and practice for him to feel safe putting that responsibility down. Which I definitely get-- putting responsibilities down is something neither he nor I do easily. How does all of this compare to your journey with your husband, Sophie?
S: Marcus & I have been together nearly 20 years and ours is an international and interfaith partnership, so there's always been plenty of stuff going on that we've needed to process and talk through so we can make joint decisions about from the very beginning. He's very English, in exactly the stereotypical stiff upper lip way that Americans both admire and can't quite understand. I'm very classically neurotically East Coast Jewish, in the way that English people often find charming but also difficult to understand. (I feel that John Mulaney sees and understands our dynamic very well.) 
Early on in our relationship, I had to develop the habit of explaining that tears don't mean the conversation is over, and it's worked. Developing a shared shorthand between us for different types of crying has been central to our success as a couple. I'm clearer with him about what it means so he knows how to adjust in the moment, and he's much more attuned to what tears mean in different contexts, and when they need attention or just a reassuring squeeze and a couple of kleenex. I can't imagine myself in a relationship as long as ours -- especially since we became parents -- where we didn't have that level of understanding. Some of that has come with time, and some of it has come only as the result of work on our parts. Being explicit is such a pain! You think you want someone to read your mind, but it turns out that even really intuitive and caring people need to hear their partner say "THIS is what's happening right now that is making me fall apart, I need THIS, not THAT, can we try it and check in with each other in like 15 minutes?"
M: The lack of telepathy, much like the existence of bodies, is-- famously-- a scam. But I think this is such an important observation. There are times when someone will respond to your tears with strategic, learned helplessness, and no amount of explaining will get them to do otherwise. But there are also times when it's sincere helplessness based in the fact that this response is largely alien to their processing strategies and they do not know how to interpret that. If they can trustfully receive your self-understanding and incorporate it into their approach moving forward, that can be the foundation of a worthy 20-year-marriage or, in my case, a 19-year best-friendship. My beloved (and aforementioned) friend Kerry comes from an Irish-Catholic family of the Unemotive Type and she became best friends with me in the wake of my dad's death, which was a real "I'm off the deep end, watch as I dive in" moment for us. UNSURPRISINGLY, she handled it like a champ. But even now, we have to check in sometimes-- like The Royal Tenenbaums anecdote above, for example, made her terrified of accidentally recommending things to me that will devastate me. And I have to remind her that now, as an adult, I like art that can make me cry as long as it manages to without manipulation.  Movies that make me cry are, in many cases, some of my favorite movies.
S: Strong same! I often quite enjoy movie tears, but sometimes they make me so angry that I feel tricked and then I cry even more, because I am PISSED. The classic example of this is when I went to see Legends Of The Fall in high school. I thought I was in for some quality scenery (Montana! Fishing! Beautiful costumes!) and a bit of Brad Pitt & Aidan Quinn ogling, but instead the sons all go off to fight in World War One and the trench warfare scene has scarred me to this day. I just started sobbing and couldn't stop, and one of my friends leaned over to gently ask if I needed to leave the theater, and I whisper-wailed, "no, I'm just so mad! This war was fucking pointless and now they're all going to have untreated PTSD forever because their baby brother is deeeeead!!!"
K: Ok well, that is just the most charming story ever. Teenage Sophie, crying over the futility of WWI?? Iconique. I love a good cry in the cinema, as long as it's earned through quality writing and acting. When I was wracked with sobs at a screening of The Passion of the Christ with my mother, it wasn't because I was impressed with Mel Gibson's directing! It was because there could be no other response to such brutal and needless on-screen violence!!!
M: My most vivid memory of furious weeping I deeply resented experiencing comes, again, from the year I lost my dad. In high school, I participated in something called The Massachusetts High School Drama Guild, the premise of which was, essentially, "theater, but make it sports." We would travel to other schools and compete in a theater tournament: each school had one hour of stage time during which you had to (1) put up your set, (2) perform your show, and (3) strike your set. And part of your overall score, as a team, was how respectful you were when the other schools' plays were happening. As you can guess, it's hard to find a play that can be effectively performed in that short a time, so lot of high schools responded to the time constraint by writing original plays. And those original shows? Tended to be very, very bad. The year my dad died, fun fact, was also the year that contained 9/11. And one high school, which shall remain nameless but against which I hold a grudge to this day, decided to end their original play of-- and this is not an exaggeration-- Shoe Salesmen Relating Emotional Anecdotes Centered Around Shoes with a monologue from a lady who brought her dead firefighter husband's boot into a shoe store for ????? reasons. A monologue which, I am sure, seemed very profound to the 16-year-old writers who'd never experienced a loss like the one it addressed but was, to me, viciously shallow and ignorant. So I sat in my seat, rigidly respectful and, as quietly as I could, wept furiously for like an hour. It was as if someone had stepped on my foot hard enough to break it and, insult to injury, they did so while wearing exceptionally tacky shoes. So please, artists and creators reading this email, remember: if you want to use death to give your story importance, do so in a way that honors the ungovernable complexity of real grief. Make maudlin kitsch out of something else. 
S: AMEN! Having now addressed some of the ways that art can make you cry badly, we want to close out the issue with a list of some art that makes us cry beautifully. 
Kamille's Salad of Emotions
There are some movies that I watch over and over again because I love how much they make me feel. What Dreams May Come, starring Annabella Sciorra and the late, great Robin Williams, is one such movie. I can't watch it super often because it does truly destroy me, but that film has the perfect blend of strong familial bonds and poetic eschatology for saps like me. Relatedly, if you haven't watched The Leftovers, I really encourage you to give it a try. It's definitely not a show for the faint of heart, but I think that its message has a particular resonance now for those that feel ready to engage with it. Lastly, I'd be remiss if I didn't toss my favorite videogame into the mix: Final Fantasy X. The whole game is a meditation on grief, trauma, and all kinds of yearning. And somehow it's still fun AF??? Incredible. I've played through the game at least ten times (I first played it when I was 13 and I'm 30 now), and every time I get to the end, I start bawling. Nobuo Uematsu's score is gorgeous; it's in heavy rotation as I work from home. And FFX is available as a remaster on the Nintendo Switch, so if you're looking for a game to play while you take a break from working for Tom Nook, you're in luck.
Margaret's Melange of Magnificent Misery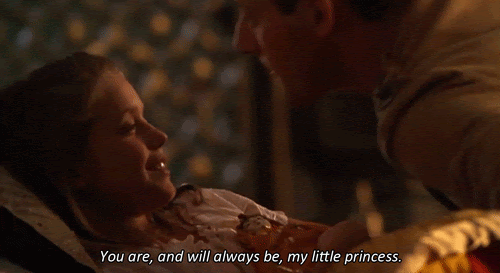 True heads know what I'm talking about.
First and foremost among media that wrecks me is Alfonso Cuarón's 1995 adaptation of Frances Hodgeson Burnett's classic A Little Princess-- one of the few pieces of media that made me cry even in my tough kid days. Is its heartstring-pulling obvious? A little. Is it also beautifully done? Fucking yes. I am slightly less confident in my loving assessment of Douglas McGarth's 2002 adaptation of Nicholas Nickleby, as it came out so close to my dad's death that I cannot pretend my response to it is objective. If I remember correctly, it may have been one of the first movies my mom and I saw together in a theater after his death. Moreover, its flaws are not what one would call imperceptible. But despite Charlie Hunnam's weird and unplaceable accent, Dickens' commitment to Manichean morality, and a characterization of physical disability that leaves a LOT to be desired, this movie's story about the family you find for yourself by preservering the wake of unimaginable loss fucks me up every time. Although you could fairly assert its prominent theme of Dad Death compromises my objectivity in assessing the musical adaptation of Alison Bechdel's Fun Home, you would be wrong. Yes, my personal connection to the story amplifies its emotional impact. But its brilliance is so undeniable that I am certain no amount of personal identification is causing me to inflate my descriptions of its excellence. And, last but not least, I name two beloved weepies I share with my co-writers of this issue: Moonlight, the final third of which I famously sobbed straight through when I saw it the first time with Kamille, and Code Name Verity, a book Sophie and I both adore and the title of which I can barely say without bursting into tears. Kiss me, Hardy. 
(jk I also need to include this Neko Case song...
… and also this A.C. Newman song, two of the best, most evocative, most honest songs about loss I have ever heard)
Sophie's All-You-Can-Weep Buffet of Tears
Sobbing your heart out while executing your flawlessly cute choreo is a real 2020 mood (though let's be real, it's been The Mood for the last 5 or 6 years at least)
The quickest way to get me to cry is to play a really sad song, so obviously I have on hand a playlist called Weepies, which I add to whenever I come across a song that puts a hitch in my breath. So handy, so full of personal attacks. Enjoy!(?)

My favorite crying book of all time is Code Name Verity, which includes so many rich veins of weepiness -- grief, the everyday magic of friendship, what the world owes to the Royal Air Force and French Resistance, you know, all the usual suspects -- that it's perfect in my eyes. Pairs perfectly with Rogue One, by the way.

Sure, I love to go to the movies for all sorts of reasons: action sequences, triumphant kissing, exquisite plotting, zingy jokes are all very valid, but crying at the movies is my actual favorite. There's something so cathartic about being in a darkened, climate-controlled room with an enormous fountain drink, surrounded by others in a collective cryfest. I think my favorite memory of crying at the movies has to be when I went to see Steel Magnolias in a packed theatre with my mom & grandma. We loved every minute and when poor Shelby died, we were just bawling, along with everyone else in the room. When it's safe to do so, let's organize all our Crying Club chapters to do that again, ok?
Two Bossy Dames is brought to you by:
We appreciate you, readers of Dames Nation!
Every time you tell a friend to subscribe, some woman, somewhere, can finally hug a friend they dearly long to comfort.
Help us build Dames Nation by upgrading to a paid subscription on Substack
Share your saucy opinions with us on Twitter whether jointly as your @twobossydames, or in single size servings as @MrsFridayNext & @sophiebiblio!