This week, Spotify made its annual "Spotify Wrapped" feature available-- the one which packages up the data it's collected on your listening habits and hands it back to you, in a slick animated summary. It's usually one of Your Dames' favorite annual traditions. But this year, it left us feeling VERY Kelly Kapoor about things.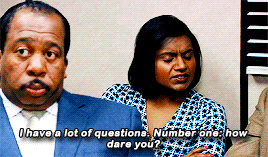 If Mindy Kaling sought to copyright the phrase "How dare you?", we'd allow it, so iconic has her delivery of it been lo these many years.
Thanks to (it seems) an 8-hour-long hacker hijacking of her account in May of this year, Dame Margaret's top five songs are, reportedly, songs to which she has never voluntarily listened even once, and MAROON 5 is one of her top five bands of the year.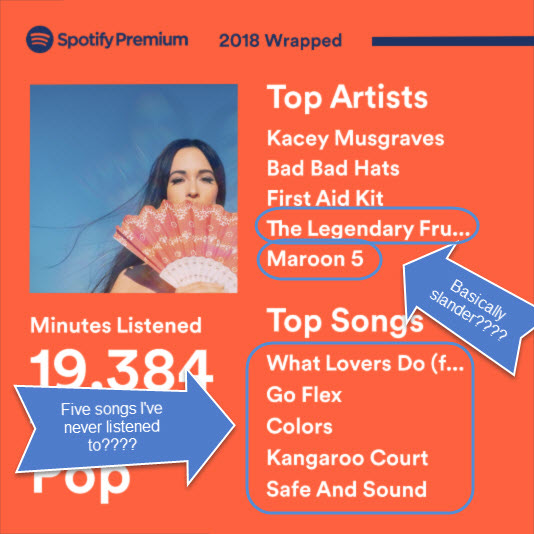 At least Kacey still got her due.
A normal human could probably manage this disappointment in a reasonable way, but given that Dame Margaret is a human who still considers being counted among the top 1% of Carly Rae Jepsen fans on Spotify in 2016 to be one of her greatest accomplishments to date, she is both bereft and furious. Having her top 100 songs of the year playlist polluted with a bunch of songs she's never even heard is a small problem, but it really does take a lot of joy out of something that's typically been a real pleasure. Combined with the psychic stress caused by the initial hacking experience, it's made her even more annoyed that Spotify does not yet offer two-factor authentication for its accounts. If you feel the same way, consider heading over to Spotify's support forums and voting in favor of the feature.
Dame Sophie's complaints are less intense, given that on the whole, her listening habits for the year were correctly represented, but her statistics skepticism antennae were activated when she noticed that neither Ariana Grande's "thank u, next" nor One Direction's cruelly underrated, Kelly Clarkson-penned breakup banger "Tell Me A Lie" made her list. These are weird omissions, given that, during a musical bender, she listened to both songs at least 25 times just last week. What gives, Spotify??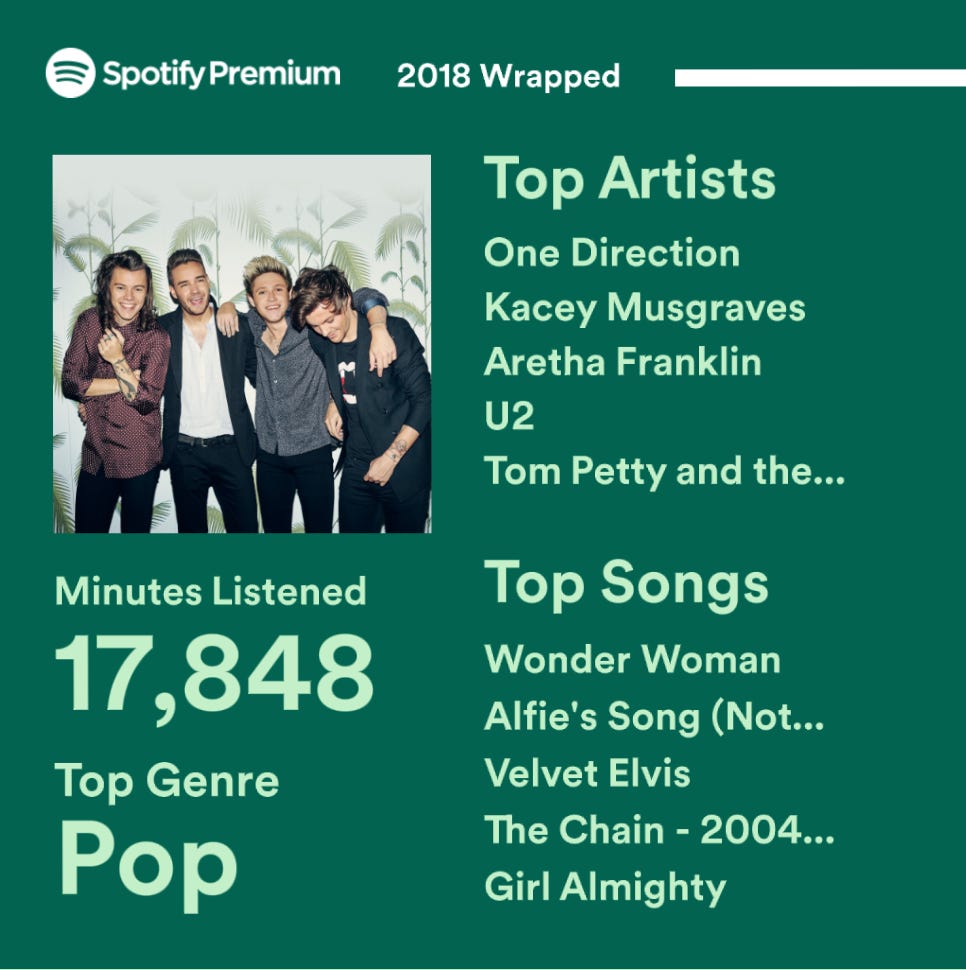 I mean, this is not wrong. I just want it to be fully true & correct!
Your Dames thought there could be a cutoff date sometime in late November that would account for the omission of various songs, and indeed, Dame Margaret did inquire. Would you believe that Spotify forgot (or worse, are living in defiance of!) the cardinal rule of music-tallyers here on Beyoncé's internet, namely: never forget that Beyoncé Giselle Knowles-Carter surprised us all by releasing her eponymously-titled album (it was called BEYONCÉ, in case you forgot) on December 13, 2013? For their 2018 year-end lists, Spotify only used data from January 1 - October 31. That's two full months of data unaccounted for! If this had been the year of BEYONCÉ, there would be no "Partition", no "Pretty Hurts", no "XO" on anyone's automagically generated end-of-year mixes!

@MrsFridayNext Hey Margaret! Sorry to hear your Wrapped stats aren't looking quite right. We pulled data from Jan 1st to Oct 31st, so your last few weeks of jams aren't included. Let us know if you have any other questions /MC
RECEIPTS! January 1 to October 31? Spotify is neglecting a full sixth of the year! Justice for the Final Sixth! (Dear Star Wars, if you want to use this as a title for one of your little motion pictures, do be in touch.)
This may sound like a minor issue -- after all, there is plenty of One Direction on Dame Sophie's Top Songs of 2018 -- but it highlights and contributes to a larger issues, which is the problem of canon. In a music business landscape where artists make fractions of pennies per streaming play, maximizing plays is often a matter of placement on playlists. Songs that are eliminated from millions of listeners' year-end playlists because we played them most in the last two months of the year are at a structural disadvantage. It's not an issue for "thank u, next", because it is, as Ariana herself puts it in the song, a smash, but it sure is for plenty of other artists. Unless Spotify intends to create a Musical Year running from November 1 - October 31 (which they absolutely could do), a whole bunch of artists releasing music in Q4 are being cheated & so are our ears.
Again, we must ask:
---
Livetweet Reminder: Join us for Belle on Sunday, 12/16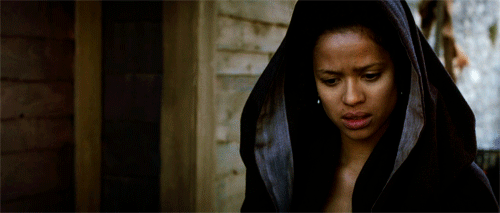 Truly, just to behold Gugu Mbatha-Raw's face is a profound honor.
Contemplating our upcoming livetweet of Amma Asante's gorgeous period drama Belle, We Your Dames realized that it makes Gugu Mbatha-Raw our very first two-time livewatch leading lady: we watched her beautiful turn in Beyond the Lights almost exactly two years ago, in November of 2016. When an actor has a face that's simultaneously this alluring and this expressive, it's hardly a shock that we find ourselves drawn back to it again and again. Whether you watched Beyond the Lights with us or not, we hope you can join us next weekend!
When: Sunday, December 16th at 7:30 PM EST

How: By renting or borrowing a copy of the movie.

Where: And following the hashtag #BelleDames on Twitter
---
NEXT WEEK: Best Books and Best Guests!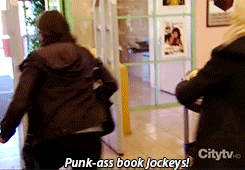 Next week, We Your Dames are hightailing it out of this joint and leaving you with some of the worst people in the world: Laura Koenig and Maggie Levine, two of the best children's librarians the Boston Public Library has to offer. They will be providing those of you among us with children to spoil this holiday season with the best books recommendation your tax dollars can provide, and we can't wait to see what they pick. And, if you want something to tide you over in the meantime, you can peruse Dame Margaret's contributions to NPR's 2018 Book Concierge and the Best of YA list she produced for The Boston Globe in tandem with librarian, accomplished podcaster, and longtime #Damespal Renata Sancken. See if you can figure out who wrote which blurbs.
---
Dame Margaret's List of Lists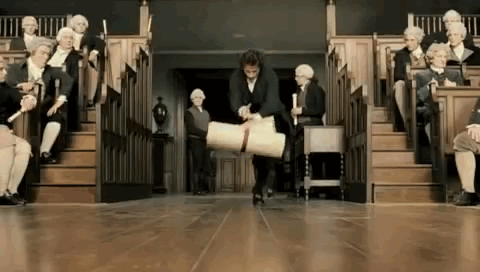 Live footage of the output of basically every publication of note at this time of year.
IT'S LIST SEASON, Y'ALL! Prior to my comically extreme distress over my inaccurate end-of-the-year playlist on Spotify, I was experiencing comically extreme distress over the Strategist's ranking MY VERY FAVORITE pen (the uni-ball Jetstream RT, the praises of which I sang in our subscriber-only guide to our favorite things) at NINETY EIGHT on their recent list of the 100 Best Pens. Under MULTIPLE TRASH STICK PENS that NO person of taste or distinction would sully their hands with. My DARLING thus slighted for groundless reasons like, I guess, not looking as nice as some other pens, or failing to be recommended by Curtis Sittenfeld. Even worse, I still fell for their schtick and bought one of their highest-ranked ballpoint pens, using an affiliate link no less!!!, even if I did so chiefly in the hope of learning that it was NOT AS GOOD as my favorite (it wasn't) (but it IS very pretty). It was a source of real and lasting annoyance for me-- annoyance eased by two important findings this week:
the Wirecutter, MY TRUE FAVORITE HIPSTER CONSUMER REPORTS SITE, deemed the uni-ball Jetstream 2018's best pen for most people, thereby validating my taste in both pens and product recommendation websites and

I discovered that a podcast called The Pen Addict had dedicated an entire episode to detailing all of flaws of the Strategist's list of pens and, lo, it was a joy to listen to.